Urusei Yatsura OVA
Inaba the Dream Maker
Original Airdate
18 July 1987
Director
-
Manga Counterpart(s)
331 - Open the Door

332 - The End of Love and Sadness 333 - Tomorrow Running Wild 334 - The Dream Door 335 - Tomorrow Once More

Previous OVA
-
Next OVA
Rage! Sherbert!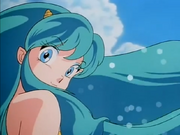 Inaba the Dream Maker (夢の仕掛人、因幡くん登場!ラムの未来はどうなるっちゃ!?, Yume no shikake hito, Inaba-kun toujou! Ramu no mirai wa dou naru tcha!?) is the 2nd OVA of Urusei Yatsura.
One day when Shinobu walks and meet Lum with her power
Characters
Edit
Plot Overview
Edit
This article is a stub. You can help Urusei Yatsura Wiki by expanding it.