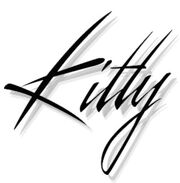 Kitty Films (キティ・フィルム Kiti · Firumu) was the production company behind the anime version of Urusei Yatsura (and later also Maison Ikkoku and Ranma 1/2).
Founded in 1972, Kitty was originally Kitty Music Corporation, which produced soundtrack albums for several live-action TV series and movies during the 1970s. In 1981, Urusei Yatsura was Kitty's first foray into anime production (although the actual animation production was done by Studio Pierrot during the first half of the series and Studio Deen during the second half), and also the company's first major hit.
Kitty's association with Takahashi Rumiko continued after the end of the UY TV series in 1986, with the Maison Ikkoku TV series also premiering that year, and followed in 1989 by Ranma 1/2 (Studio Deen animated the entirety of both MI and Ranma, and Madhouse Studios animated Yawara!, the final UY movie, and Legend of the Galactic Heroes). Kitty continued to produce UY anime during the late 1980s in the form of Original Video Animations (the last of which was released in 1991) and a few more feature-length movies (there were six in total, the first being Only You in 1983, and the last being Itsudatte My Darling/Always My Darling in 1991). These works were produced under the aegis of producer Taga Hidenori and planner Ochiai Shigekazu (a longtime friend of Takahashi's; d. 1999). Other non-Takahashi anime produced by Kitty Films included Legend of the Galactic Heroes, F (1988-89), and the very popular Yawara! A Fashionable Judo Girl (1989-1992), which regularly scored higher ratings than its "sister" show Ranma 1/2.
The early 1990s marked the beginning of the end for Kitty's golden era. The company was in dire financial straits, reportedly due to Taga's using money from Kitty's music branch to finance the company's anime productions. Kitty lost both Taga and Ochiai in 1992 (Taga resigned due to an unknown scandal, and Ochiai moved on to another studio), and Kitty's visibility quickly faded after the final Ranma 1/2 OVA was released in 1996, with its last noteworthy titles including Ping Pong Club (1995) and Sakura Diaries (1997). The end of Ranma also marked the end of Takahashi's association with Kitty; the anime adaptations of her works released since have been produced by other companies (Inuyasha by Sunrise, and Takahashi Rumiko Anthology by TMS Entertainment). Kitty no longer holds the rights to any of its anime hits and is now primarily a talent agency.
Many now-well-known names in the anime industry cut their teeth working for Kitty Films on Urusei Yatsura, including Mamoru Oshii (Ghost in the Shell), character director and animator Atsuko Nakajima, and Junji Nishimura (Kyo Kara Maoh!).